The LIBRARY:
The Holy of Holies

Shaw's ever-growing collection "of everything Holmesian", as he often said, was a magnet for Sherlockian scholars around the world; and it all resided at "A Little Adobe House in Santa Fe, New Mexico," (an article by Jim Hawkins, published in The Friends of Sherlock Holmes Collections, 2002). Shaw worked religiously at spreading the news of Sherlock Holmes.
He advertised his library in newsletters and in personal notes typed on his Smith-Corona electric typewriter, often mailing as many as 30 letters a week. He phoned book sellers and Sherlock Holmes devotees searching for rare books. And he hosted the following irregular events, each of which is highlighted somewhere on this website. You'll find the Trap Shoot on this page.
1. The Brothers Three of Moriarty —his scion—
2. UN-Happy Birthday You Bastard Moriarty —his annual madhouse of fun—
3. Colonel Sebastian Moran Trap Shoot —his only shot not in a glass—
on thousands of items in his library
Shared by Georgia Shaw on the Friends of John Bennett Shaw Facebook page, "These beautiful bookplates were produced by a student of Eric Gill at Notre Dame University. John Shaw's collection of 2,500 Eric Gill items is in the Memorial Library at the University."
The Robinson/Ewan/Stephenson Video (1991)

As John's fame grew, Sherlockians from far and near began making the pilgrimage to 1917 Fort Union Drive to meet THE John Bennett Shaw and spend hours looking through the treasures in the library, sometimes called the "slumber room" because many a visitor spent the night on the couch there. They enjoyed swapping stories about collecting books and Sherlock Holmes keepsakes. John seemingly had an interesting story about every volume and item in the room. Visitors ranged from noted scholars to members of various scions across the country.
Steve Robinson (pictured right, May 25th, 1991) brought Denver Sherlockians Greg Ewan and John Stephenson to visit Shaw at his home in Santa Fe. Robinson recently searched through his John Shaw treasures and came up with the most incredible 8-mm video of their visit in 1991. He then had the video transferred to digital and posted it at the Friends of John Bennett Shaw. This will take you directly to the video.
Organizing the Collection: File Boxes and Ring Binders
Employing his librarian background skills, Shaw spent countless hours labeling and cataloguing his collection, and we repeat, without the convenience of a computer; it was all done by hand. He did, however, have hundreds of file boxes and ring binders, and he took time to carefully label and decorate each one. Like many Sherlockians he enjoyed seeing a graphic representation of what was inside the container; obviously he had thousands of illustrations to choose from. The box I have was manufactured by The Magafile Co. in St. Louis, MO, size 5 D. It came as a flat and had to be folded into a box. Shaw had a countless number of these.
After his collection was safely placed in the John Shaw Library at the University of Minnesota, dedicated as such in 1995, the library made those file boxes available to interested Sherlockians for the asking. Brad Keefauver was kind enough to gift me with one of those. It was one of the sparks igniting my desire to share John Shaw's story at this website.

Another guest from Denver, Ron Lies, a member of Doctor Watson's Neglected Patients, visited John and Dorothy in 1987. Although Ron and I were visiting Santa Fe about the same time, we did not meet each other until 2011 when he joined WelcomeHolmes, the on-line Sherlock Holmes discussion group begun in 1999 as part of the Nashville Scholars scion. Then we discovered our shared memories of being in the fabled Library at about the same time. We both had backgrounds that John enjoyed exploring with us beyond Sherlock Holmes: Ron was a Catholic; I grew up in a funeral home. Shaw was Catholic and a funeral director in his day. Ron Lies and I have since become close friends. We like to think John would have reveled in our story; we both consider him our Sherlockian mentor, and we decided to call ourselves The Brothers-in-Shaw.
The Norwegian Explorers of Minnesota
Scott Monty interviews Julie McKuras and Gary Thaden
As noted in the Moving WEST section of this website, The Shaw Collection that once resided in Santa Fe is now safely located in the climate-controlled, underground stacks of the University of Minnesota Libraries. Because it is there and not spread all over Sherlockendom in private collections, it is available to anyone interested in seeing it. Every three years the Norwegian Explorers of Minnesota scion, founded in 1948 on the campus of UMN, presents a themed Sherlockian event. This summer the August event is titled, Dark Places, Wicked Companions, and Strange Experiences. Many attend these sessions knowing they will be able to tour Shaw's library in the Sherlock Holmes Collections. Two members of the Norwegian Explorers, Julie McKuras (BSI - 2001) and Gary Thaden. were interviewed recently by Scott Monty, creator of I Hear of Sherlock Everywhere podcast. In the interview they share information about the upcoming event. They also help us remember the 1995 dedication of the Shaw Collection and share stories about specific items. (Hear Episode 166: Dark Places, Wicked Companions and Strange Experiences.)
The Sebastian Moran Annual Air Gun Shoot Off (Trap Shoot)
Jon Lellenberg (BSI - 1974) was a visitor to the Shaws' home in 1973 and spent the night sleeping on the sofa in the library, "assuming we could get to sleep with so much Sherlockiana around us on the shelves," he added. He sent a remembrance of the Trap Shoot he attended in Santa Fe during his visit.
"The first time I met John Bennett Shaw in person was when I had to be in New Mexico on business, and Shaw invited me to come to the Third Annual Colonel Sebastian Moran Memorial Trap Shoot. This was not the very beginning, but close to the beginning of one of the best and most productive friendships in my life, and that weekend cemented what we'd begun at long distance the year before. We both had perfect scores the first go round. 'No one was injured.'"

He also wrote one of the articles in the Baker Street Journal (1990), titled John Bennett Shaw — His Limits: "At the time I first visited Shaw in Santa Fe, his principal occupation appeared to be innkeeper. I was just the latest, and far from the last, of a vast number of Sherlockian pilgrims to visit Shaw and his awesome collection. Not more than three days ever went by without a house-guest, and one or two stayed for weeks at a time*."

(*One of the Sherlockian scholars who spent weeks working in the Library was Ronald De Waal (BSI - 1969), author of The Universal Sherlock Holmes. De Waal had been cataloging the Shaw collection in Tulsa and continued his work after John moved to Santa Fe. More on De Waal in FRIENDS.)
Mr. Lellenberg, in deciding what to share about his friend John Shaw, had this to say in an email: "I just don't think I could say it better than I did back in 1990, when Shaw was still with us and I knew he'd be reading it himself."
John Bennett Shaw - His Limits ( © Copyright 1990 by the Baker Street Irregulars)
(Mr. Lellenberg retired from his work as a defense policy & strategy official at the Pentagon in Washington, DC, in 2006. For many years he was Dame Jean Conan Doyle's (and later her estate's) U.S. representative in licensing work for the Conan Doyle Estate, Ltd.)
A bit more on the Annual Trap Shoot, always a crowd-pleaser and the very essence of John Shaw's wacky sense of humor. No doubt he grew up familiar with guns and hunting, as most Oklahoma kids did in the 1920's and '30's. Shaw came up with a target supposed to be the silhouette of Colonel Sebastian Moran.
Ron Lies, my Brother-in-Shaw from Denver, tells a poignant story about his first Trap Shoot that demonstrates the kindheartedness of Shaw.
I was participating in The Sebastian Moran Annual Air Gun Shoot Off, arranged by The Brothers Three of Moriarty in June of 1987. Each of us wrote our names on our target sheets, which would be replaced for the next contestant as each one of us shot. The trophy for winning was gigantic, and I wanted to win it or at least make a good showing. My hopes were based on realism, however, and to me a good showing would mean hitting the target at least once. Even that was a remote possibility for a four-eyed squinter with one near-sighted eye and the other far-sighted, causing depth perception problems. It came time for the contestants to take their turns shooting.

One at a time, all alone, all eyes on the shooter, we took our turn.

When all the contestants completed their shots, the target sheets were collected for judging. As fate sadly decreed, my sheet was the only one with no holes or hits on it. I was getting a large share of ribbing from the other shooters. John Bennett Shaw somehow knew how I felt. The ribbing from these men was good-natured, but having dealt with poor eyesight all my life, it was tough to take. He turned to the other shooters and said, "Boy, you guys do not know a true collector when you see him. Ron did not want to hit anything and ruin his target from the shoot. I taught him well." The ribbing ended immediately. As he tuned to walk back up to the house for lunch, John smiled at me and winked.
(Ron Lies, 2018)
Steve Robinson, owner of Wolf Mountain Books in Flagstaff, AZ, took some great photographs at the Trap Shoot in 1988.
Shaw was celebrated in two important publications: a special issue of the Baker Street Journal (Dec 1990) with various contributors, and The Sage of Santa Fe (published privately) written and compiled in 2013 by Susan Rice (BSI-1991) and Vinnie Brosnan (BSI-2011) . (Brosnan died soon after the publication of the book, and is remembered by The John Watson Society here.)
The Sage of Santa Fe — Adventures and Public Life of John Bennett Shaw

In these 26 pages Rice and Brosnan celebrate their friendship with Shaw through recollections of workshops, images from his files, reproductions of his letters and printed materials, famous Shaw quotes, and a quiz on: Thirty of the Cases in the Holmesian Canon Prepared for the Third Annual Colonel Sebastian Moran Trap Shoot Meeting of The Brothers Three of Moriarty, May 23, 1973.
Brosnan attributes the cover of their booklet to the Sesame Street Magazine of February 8, 1976. The image of Shaw was taken from the Smithsonian magazine (December, 1976), showing John holding a ceramic doll of himself created by New Mexico artist Caryn Ostrown-Wagner. Susan Rice's article in the pamphlet first appeared in Prescott's Press, No. 57 (September, 2010)

Here is a line from Susan Rice's article entitled "The 'Hans Sloane' of Our Age".



"No writer likes to start a paper with a cliche, much less two, but I find it impossible to resist the inclination to label John Bennett Shaw as larger than life. And having set my foot upon the crumbling slope of cliche, I'd also like to label him with the Reader's Digest old phrase The Most Unforgettable Character I Ever Met."
Vinnie Brosnan of Oceanside, CA (BSI-2011 "That Gap on the Second Shelf"
In The Sage of Santa Fe, Vinnie talked about John's collecting habits.

John Bennett Shaw, Bibliophile Extraordinaire
"John's goal was quite simple — to have one of everything and anything that touched Sherlock Holmes. So as a collector he only needed the one item and never hoarded but rather shared his duplicates and extras — not to do so, he felt, was a dereliction."
According to Vinnie about himself, "In 1988, I became an active member of the Trained Cormorants, one of the oldest scions in the U.S. (founded in 1947) and I became the custodian of their archives. Shorty thereafter, I formed a publishing arm named The Sherlock n L.A. Press and produced three major monographs, all of which are now highly collectible. The first was The Sherlock Holmes Mother Goose by Paula Salo; the second was The Trained Cormorants 60th Anniversary Commemorative which was the scion's history accompanied by many archival photographs; and the third was The Sage of Santa Fe: Adventures and Public Life of John Bennett Shaw written by Susan Rice and myself." (This quote is from the John Watson Society page referenced above.)
Vin Brosnan remembered Shaw in the 1996 catalog of books for The Sherlock in L.A. Press, using the photograph taken by Chad Slattery and Fred Strebeigh for the Smithsonian Magazine (Dec. 1976) in their article about Sherlock Holmes fandom. The images below include a photograph of Shaw and other BSI members at the 1972 BSI Dinner at the Regency Hotel. See the BSI Trust, Inc. page covening all the details of that evening here. (The images and story from the catalog were sent in by Charles Prepolec of Calgary, CA.)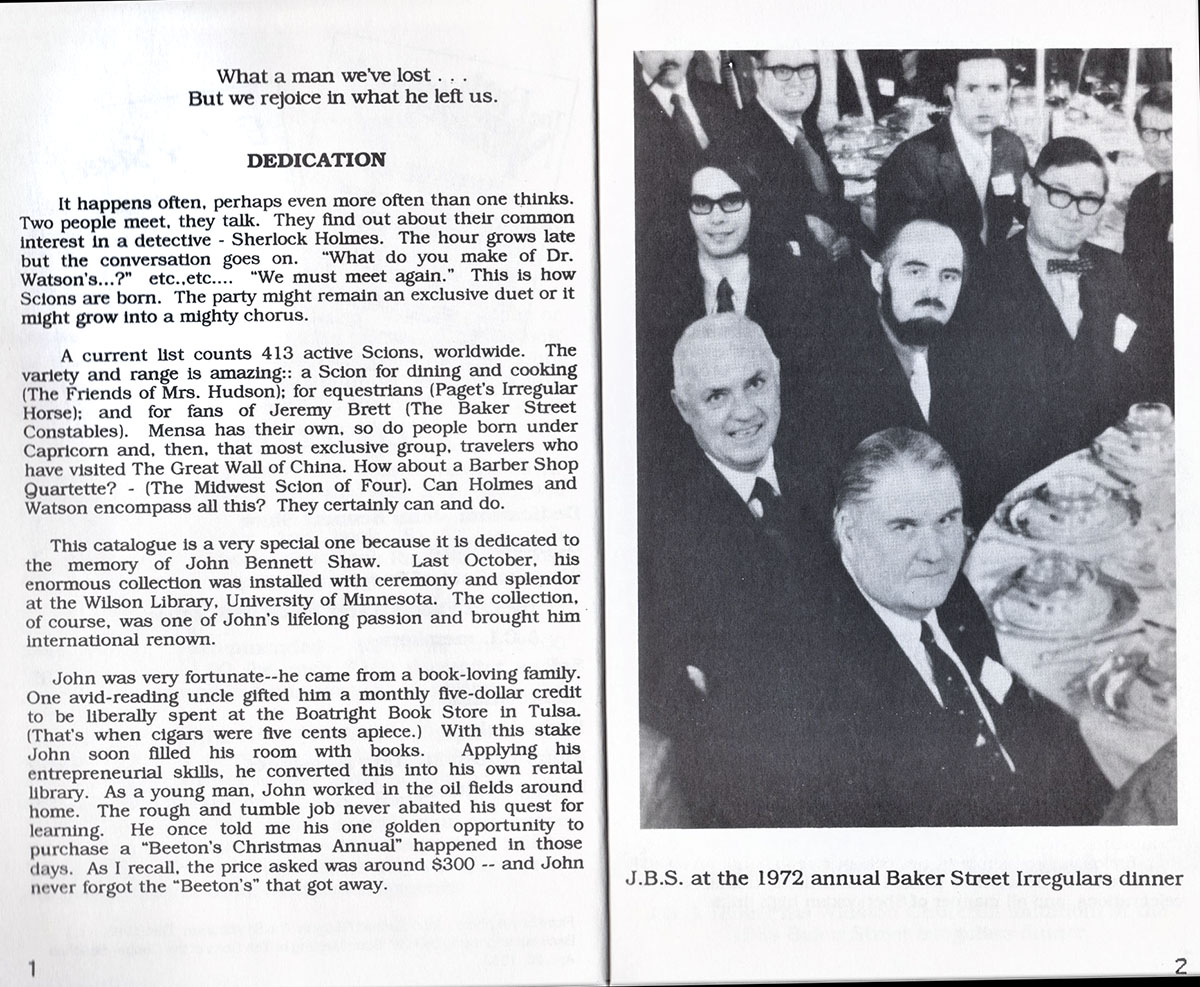 The December 1990 edition of the Baker Street Journal (vol. 40, no. 4) edited by Philip Shreffler,
was dedicated entirely to John Bennett Shaw. Several friends and scholars contributed brief articles about the importance of Shaw's contribution to the world of Holmes. The edition was a sellout and quite a surprise to John. Ten of John's friends contributed articles to the issue:
"Art in the Blood" — Scott Bond (illustration)
"John Bennett Shaw—His Limits" — Jon Lellenberg
"Tales from Dartmoor" —Jeff Decker
"My Grandmother Is Blind" — Martin Gardner
"From the Doctor's Diary" — Lee Eric Shackleford
"Collector, Punster, Simpson, Shaw" — Thomas L. Stix, Jr.
"He Has the Collection Mania in Its Most Acute Form" — Peter E. Blau
"The Sage of Santa Fe" — Saul Cohen
"The Holmesian Tent Show" — Susan Rice
"Johannes Magnus" — Evelyn A. Herzog
(© Copyright 1990 by the Baker Street Irregulars) The inclusion of John Shaw's image on the title page is a rarity. Only two other significant Sherlockians have been honored in this fashion: Julian Wolff and Christopher Morley
The Memories of John Shaw Are Lasting …
Jeff Decker, who knew and worked with John from 1979-1984, has been kind enough to contribute this remembrance. His email arrived recently.
Mar 15, 2019, 7:06 PM
Jim,
My name is Jeff Decker. I live in Pennsylvania now, but during 1979 to 1984 I lived in Phoenix, Arizona, and visited Mr. Shaw's home in Santa Fe. We became fast friends, and I did a number of illustrations/cartoons for John, drawings he used mostly as greeting cards. I also did an illustration for him regarding his massive collection's migration to Minnesota (it was an illustration depicting John leading a line of pack elephants bearing his collection, like Hannibal crossing the Alps. He loved it!). After I moved back to the Northeast, I saw John again when I attended his seminar in Williamsburg in '87, where he introduced me to Tom Stix. Both Tom and John were instrumental in expanding my interest in Sherlock Holmes, and they were very enthusiastic and encouraging about my artwork. I'm pretty sure that most of the art I did for John is now filed away with the rest of his collection at the University in Minnesota.

I am in the process of reading your massive blog on John, which was brought to my attention by Charles Prepolec. It's very interesting and well compiled. I was going through some old manila folders this past weekend and discovered I still had the original artwork for the piece I've attached to this email as a jpeg. Of course, I wouldn't part with it now for anything, but I wanted to share it with you.
Congratulations on a great job with your report on John Bennett Shaw. He certainly should not be forgotten. I know I'll always remember him.
Best Canonical Regards,
JD


I had to include the cartoon drawn by Mr. Decker for the December 1990 Baker Street Journal dedicated to John Bennett Shaw (vol. 40, no. 4).
And you thought you knew all about what happened at the Reichenbach Falls!

As I've related to Jeff Decker, this one cracks me up!
(Image used with permission from Jeff Decker and the editor of the Baker Street Journal.)
MOVING WEST LIBRARY WORKSHOPS FRIENDS